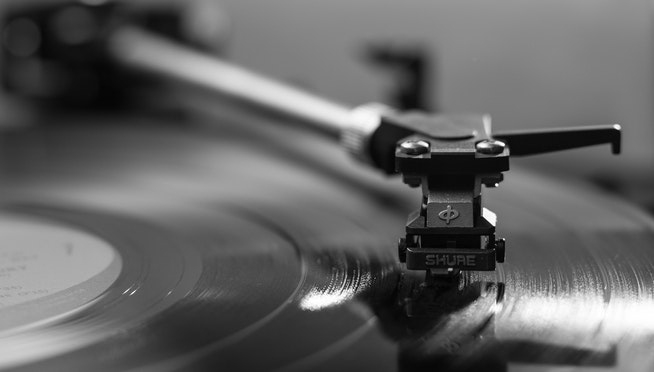 Record Store Day is coming: April 23rd, 2022.
You can browse the full list of releases, find a great record shop near you, or check out the selection of alternative artists that have goodies coming your way below. As always, check with your favorite shop to see if they will have what you want before you make the trek.
Alice In Chains – "We Die Young"
Originally released in 1990 as promotional-only, Alice In Chains' first studio EP We Die Young will see a limited edition commercial release on Record Store Day. With remastered audio by Bob Ludwig, the three-track EP includes two songs that later ended up on the band's debut album, Facelift, along with "Killing Yourself," exclusive to this EP.
Cold War Kids – "Zowie Selects"
This 10 song compilation features a track list of favorites from Cold War Kids' New Age Norms selected by super-fan and friend, Zowie. This limited edition Record Store Day vinyl release is printed on a metallic silver 12" vinyl.
The Cranberries – "Remembering Dolores"
Remembering Dolores, a compilation of selected songs from the Cranberries' discography, was released digitally in September 2021 – around what would have been the late vocalist's 50th birthday. UMG Recordings, in association with the remaining members of the Cranberries and Dolores O'Riordan's estate, are releasing a special 2 LP edition of Remembering Dolores. It features 3 bonus tracks: "The Rebels," "Astral Projections," and "Warchild."
The Cure – "Pornography"
Limited edition picture disc of the UK band's legendary fourth album, celebrating its 40th anniversary. Featuring the trio of singer/guitarist Robert Smith, drummer Lol Tolhurst and bassist Simon Gallup, this 1982 classic features "100 Years," "A Short Term Effect," and the single "The Hanging Garden." Pornography is arguably the peak of The Cure's early, darker sound, before they switched to a more pop orientated direction. The album had a huge influence on future dark wave and gothic rockers. Despite the album's dark themes it was their most popular release to date, breaching the UK Top 10.
Cypress Hill – "The 420 Remixes"
Cypress Hill's self-titled debut album was an instant classic. In 2021, for its 30th anniversary, two favorite tracks were remixed and released digitally, and they're now ready to take the turntables, on 10" black vinyl, as part of Record Store Day's 15th anniversary!
Echo & The Bunnymen – "B-Sides and Live (2001-2005)"
Previously only available as a digital release, B-Sides and Live (2001-2005) brings together rare recordings by new wave legends Echo & the Bunnymen. Stand out tracks include acoustic versions of "Make Me Shine" and "Nothing Lasts Forever" along with recordings of "Killing Moon" and "Lips Like Sugar" from the 2005 Reading Festival. Demon Records is proud to present the first physical release of this collection, pressed on two 180g clear vinyl exclusively for Record Store Day 2022.
Everlast – "Whitey Ford Sings The Blues"
"Whitey Ford Sings the Blues" is the first album from Everlast, following his departure from House Of Pain and was released in 1998. The record was both a commercial and critical success, selling more than 3 million copies worldwide and certified double platinum. The track "What It's Like" earned Everlast a Grammy Award nomination for Best Male Rock Vocal Performance. 
Foo Fighters – "Making A Fire/Chasing Birds Re-Version"
A special 7" single for Record Store Day, featuring two Foo Fighters tracks "Re-Versioned" by some of their musical friends. Making A Fire Re-Version includes contributions from members of the Dap-Kings, the Budos Band, Antibalas, the Tedeschi Trucks Band, and more.
Chasing Birds Re-Version includes contributions from Ben Jaffe, Charlie Gabriel, Clint Maedgen, Walter Harris, Branden Lewis, Ronnell Johnson and more.
Noel Gallagher's High Flying Birds – "Magic Secrets 2022"
This 7" features demos of "We're Gonna Get There In The End" and "Trying To Find A World That's Been And Gone: Part 1" which were released digitally at short notice as a New Year goodwill message from Noel to the fans for 2021 and 2022 respectively. A physical release of these tracks has been highly anticipated. These limited edition 7"s are individually numbered and feature exclusive artwork.
Glass Animals – "I Don't Wanna Talk (I Just Wanna Dance)"
Put very simply — a 12" vinyl cut of the song — original & a version with Albert Hammond, Jr. of The Strokes.
The Lumineers – "Brightside: Bonus Tracks"
Brightside: Bonus Tracks is an exclusive 10″ color vinyl release consisting of bonus tracks recorded during the sessions for the platinum-selling, GRAMMY-nominated Denver band's highly anticipated fourth album, Brightside, including new track "Little Sound," a cover of The Cure's classic "Just Like Heaven," and two acoustic performances of Brightside album tracks.
The Offspring – "Greatest Hits"
Greatest Hits compilation from The Offspring available for the first time on vinyl. Originally released in 2005, these 14 tracks include eight Top 10 Mainstream Rock hits, plus two bonus tracks "Can't Repeat" and "Next to You." Pressed on Aqua Blue vinyl with foil board cover.
Pearl Jam – "Live on Two Legs"
Originally released in 1998, Live On Two Legs documents that year's US summer tour in support of the Yield album. Sixteen tracks on crystal clear vinyl, in double LP gatefold packaging.
Red Hot Chili Peppers – "Unlimited Love"
A special version of the new double-album from Red Hot Chili Peppers. The RSD special version includes two LPs pressed on silver vinyl, an exclusive 24 x 36 poster, and the sleeve printed on silver board.
Gavin Rossdale – "Wanderlust"
The frontman of Bush has his original 12 track album coming, which contains smash hit "Love Remains The Same" and one bonus track (#13, "This Place Is On Fire"). First time on vinyl, and includes download card.
Gerard Way – "Hesitant Alien"
Blue vinyl reissue from the frontman of My Chemical Romance.