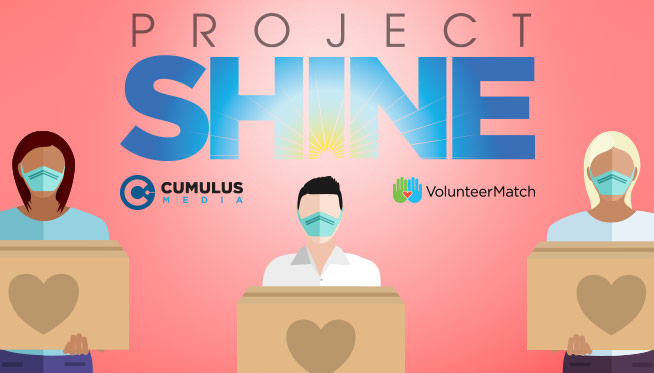 It is often in the darkest skies that we see the brightest stars.
CUMULUS MEDIA and VolunteerMatch bring you PROJECT SHINE. Today, you have the power to shine. To help our country find its way out of the darkness. Your good deeds can light up the sky and shine light into the world.
In the wake of COVID-19, America's non-profits need our support more than ever. Sure, it feels good to donate money, but when you VOLUNTEER, you truly give of yourself, and the world and your soul are richer for it.
PROJECT SHINE believes that everyone should have the chance to make a difference. That's why we make it easy for good people and good causes to connect. You'll be amazed at the world of volunteer opportunities that exist in your area through VolunteerMatch – the largest online volunteer engagement network.
There are currently 3.2 million volunteers needed by the non-profits on VolunteerMatch. Over 700,000 of those openings are for virtual volunteers, and many postings are for safely-distanced activities. Find your dream volunteer opportunity right now at www.VolunteerMatch.org.
Give what matters most – your time, effort and love – as a volunteer in your community. Let the light shine down, and let your light shine brighter too!
*If you know of a non-profit that needs help recruiting volunteers, we can help with that too! Find out more HERE.
We've partnered with Collective Soul who have recorded a brand new, exclusive 2020 version of their hit song, "Shine", created just for Project Shine. It is all about bringing some light back into our world this season. Take a listen…