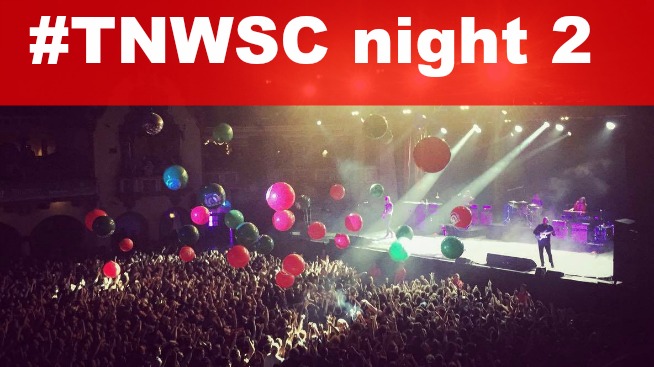 Night 2 of the Nights We Stole Christmas 2016 was a parade of fantastic moments, amazing musical performances, and overwhelming joy under the painted stars of the Aragon Ballroom. Here is a brief sampling of social media memories shared with Weathers, Catfish & the Bottlemen, and Cage the Elephant. Plus some great stuff that happened off-stage and after the show.
Once again, it's always worth saying: THANK YOU! Thank you to those of you that joined us this week at these incredible shows.
Maybe you will come across something you posted or maybe something you missed below.Keep an eye on this site for Meet & Greet and performance HD photos in the coming days.
CAGE THE ELEPHANT
Cage the Elephant tonight for night 2 of #tnwsc! pic.twitter.com/YpHQ2mOQj1

— kate scott ★ (@KateinGlasses) December 3, 2016
Cage The Elephant set list #TNWSC @101WKQX pic.twitter.com/pLox3aFOZR

— Brian Phillips (@beefillups) December 3, 2016
I got a gif making app for this specifically bc woah #tnwsc @CageTheElephant pic.twitter.com/yTphxBTEn0

— Jeanette Morley (@jmmorley1) December 3, 2016
CATFISH & THE BOTTLEMEN 
CATFISH & THE BOTTLEMEN 
Thank you @thebottlemen for such an amazing show, and thanks @101WKQX for throwing the nights we stole Christmas😍🤘🏻❤️ #Twice pic.twitter.com/FJUVfELg0C

— Josie (@JosieHoran21) December 3, 2016
WEATHERS
HAPPY PILLS @Weathersband #TNWSC –@marconibologna pic.twitter.com/QVzJcBUEIH

— 101WKQX (@101WKQX) December 3, 2016