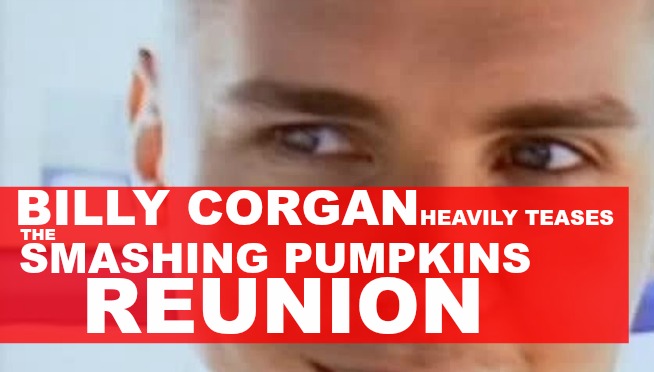 In a Facebook live video on Thursday, Billy Corgan once again peaked interest in what many are assuming is a Smashing Pumpkins reunion of the iconic Chicago band's classic lineup with bassist D'Arcy Wretzky, guitarist James Iha, and drummer Jimmy Chamberlin. The video is posted at the bottom of this page, Corgan also dishes on his new job as the President and lead creative producer for TNA IMPACT Wrestling on POP TV. 
The most telling line from Corgan in this video will make fans of the Pumpkins freak out a little bit. "Definitely making plans to tour next year, under the name 'Smashing Pumpkins'. Who will be on stage? We shall see." He also noted he has a "hankering" to write SP music with "big riffs, big choruses" that the band was characteristically known for. "I guess I have to get Jimmy Chamberlin on the phone, and maybe some other people that used to be in the band" says Corgan as he continued to slickly tease the OG SP lineup reunion. He even clarified he would want make an album that falls "somewhere between Siamese Dream and Gish"
To cement further proof that this is happening, our pals at Consequence of Sound reported in July that a Pumpkins reunion was in the works with undisclosed music festivals for next summer. This would line up with Corgan publicly revealed time frame for touring and any potential new music. Still everything has come just short of a confirmation.
Jimmy Chamberlin has periodically rejoined Corgan on drums in SP since 2007 when the singer/guitarist relaunched the band without Iha and Wretzky, including a successful tour last summer with Marilyn Manson. Iha made cameos on the Pumpkins recent acoustic and electric shows. The momentum continued when Corgan made it known he had once again reconnected with Wretzky earlier this year. All the pieces are coming together. 
As if that is not enough, Corgan also confirmed in this latest video that he is releasing a new solo album with legendary producer Rick Rubin who has worked with Black Sabbath, Metallica, Red Hot Chili Peppers, and System of a Down."For the most part the record is done," says Corgan. There is no release date for this solo album just yet.
And there is more. Billy announced that the new line reissues of classic and rare SP recordings will be reissued on vynl and as well as digital. This crop of releases will also feature unreleased live tracks from Pumpkins.
So Pumpkin fans, don't you just wish you had a time machine to go into the future already to see what happens here?